The value of giving.

When I think of the modern televangelists, I get reminded of the story of the "Widow's mite" in the Scriptures.

At the front of the church a rich man made a big show of giving a lot, while at the rear of the church a poor widow gave what she could not afford, as she had little to provide the widow hid what she offered.

It isn't about how much you give; the value comes from how you can provide.
Before I knew that Martha Borg was with the Jimmy Swaggert Ministries, I came across her and Grace Brumby, from where I can't recall.
Powered by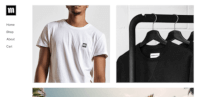 Create your own unique website with customizable templates.