When God has another plan.

It wasn't meant to be, I was chasing rainbows all my life.

You may wonder why if it sometimes takes a year to write a story, why am I giving it away for free?

The answer is simple - I have for the last decade try to make some money from my stories, and I came to the decision it is a thankless and hopeless task.

People are willing to pick up a free book, but nobody is willing to pay. In the decade, even on a good month I never made more than $1 a week, the reason being I was forced to keep my prices to the minimum to get the few sales I did get. So, giving the last of my work away is no loss as you see.
Powered by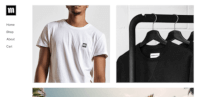 Create your own unique website with customizable templates.